SOUP: Vadouvan Masala Lentils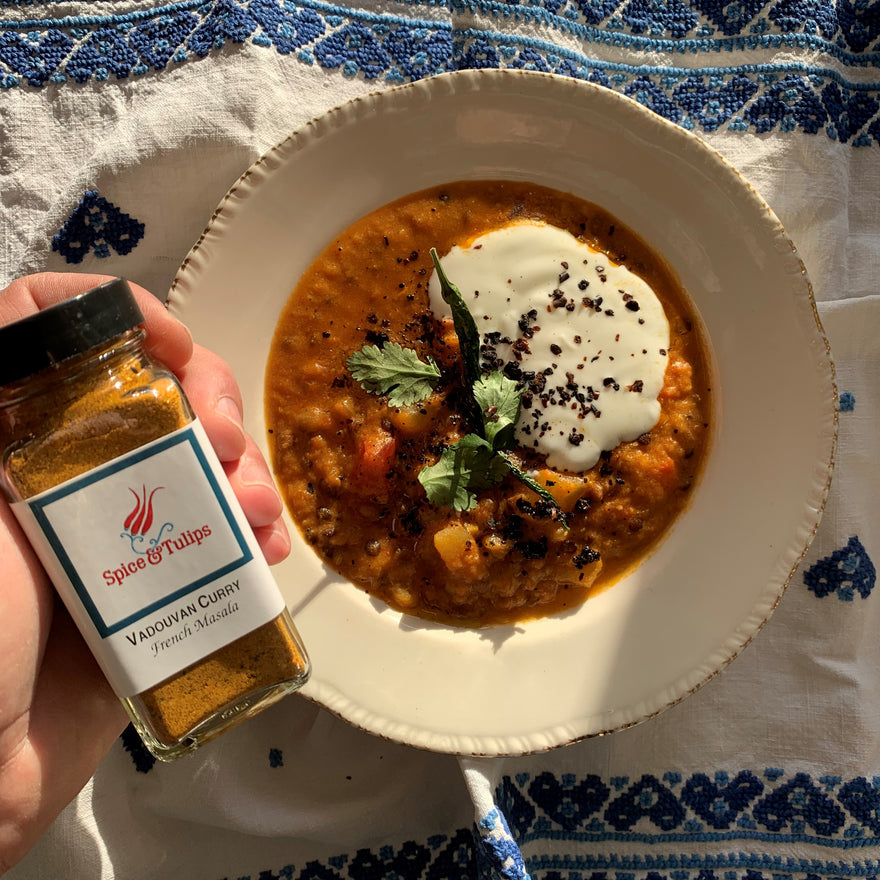 If you haven't tried Vadouvan Curry spices yet, you haven't lived. Garlic? Onion? Shallots? Turmeric? Seriously, what's not to love. It's time.  

1 cup sprouted lentils (mixed color)
5 cups water (or fave broth)
1 cup carrots, cut into 1/2-inch cubes
1 cup Yukon gold potatoes, cut into 1/2-inch cubes

2 TBSP Vadouvan French Masala Curry
1 TBSP butter
1 TBSP olive oil
1 med yellow onion, finely chopped
1 shallot , thinly sliced
3-4 garlic cloves, minced (Optional) 1 TBSP fresh, peeled, minced ginger
1 can tomatoes (13.5 oz)
1 can coconut cream (13 oz)
2 tsp fine grain sea salt, more to taste (Optional) 1 Arbol chile
OPTIONAL GARNISH
1 small handful cilantro or parsley, chopped
Plain yogurt
Urfa chile

Rinse lentils well. Place them in an extra-large soup pot, cover with the water; bring to boil. Reduce heat to simmer. Add carrots & potatoes. Cover and simmer for approx 15 mins, until all the vegetables are tender.
In the meantime, in a small  skillet over low heat, toast the Vadouvan Masala powder until fragrant, 1-2 min, stirring frequently. Be careful not to burn it, just toast it. Set aside.
 
Place butter and olive oil in a pan over medium heat, add onions, shallots, garlic and ginger. Saute for 3-4 mins, stirring constantly. Reduce heat to low until softened, then add the tomatoes and simmer another 4- 5 mins. Add coconut cream, toasted Vadouvan Masala and salt; mix well.

TIP #1
If you don't like chunky tomatoes in your soup. you can purée with a blender. Don't over purée though - a few small pieces give a nice texture.

TIP #2
When simmering veggies, add 1 Arbol Chile if you like a little extra extra spice.

Finally, simmer uncovered for 20-30 minutes. The soup will thicken the longer it cooks. If you prefer less thick, add small amounts of water until you reach your desired consistency.

Serve with a large spoonful of plain yogurt and a pinch of Urfa Chile,  Parsley, or Cilantro.

TIP #3 (next day)
For a variation on Day 2,  serve over plain rice.

Bon Appetit! 
---