SALAD: Colorful Beets with Arugula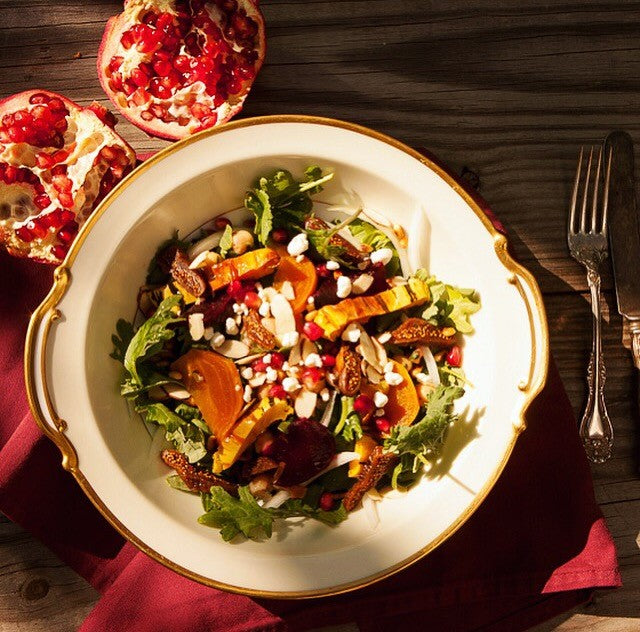 Forget the precise recipe and improvise! We'll give you a few rough guidelines, but the rest is up to you... cooking should be fun. Right? 

2 golden beets
2 purple beets
One acorn squash, halved 

2 cups baby kale
2 cups arugula
1/4 sweet onion, thinly sliced
1/2 cup garbanzo beans
2 dried Turkish figs, cut into thin slices
2 TBSP pine nuts, toasted
1 TBSP sliced almonds
1 TBSP pomegranate seeds
1/4 cup crumbled goat cheese

1 TBSP Aged Fig Balsamic (or Black Currant Balsamic)
1 TBSP Extra Virgin Olive Oil
1 TBSP Byzantine blend
Preheat oven to 400F.

Wrap beets in aluminum, place onto a baking sheet, and roast 35-40mins, until tender. Acorn squash can go on the same baking sheet, flesh side down, also for about 40 minutes, or until tender. Once cool enough, peel beets with a paper towel and cut into 1/2 inch slices. Slice acorn squash into 1/2 thick crescents.

Gently toss greens, onion, beans, figs, nuts, and seeds together in a large bowl.
Add beets, squash and goat cheese.

Dress lightly with balsamic and extra virgin olive oil.

Finish with Byzantine.
Afiyet olsun!
---