SOUP: French Onion with Reishi Broth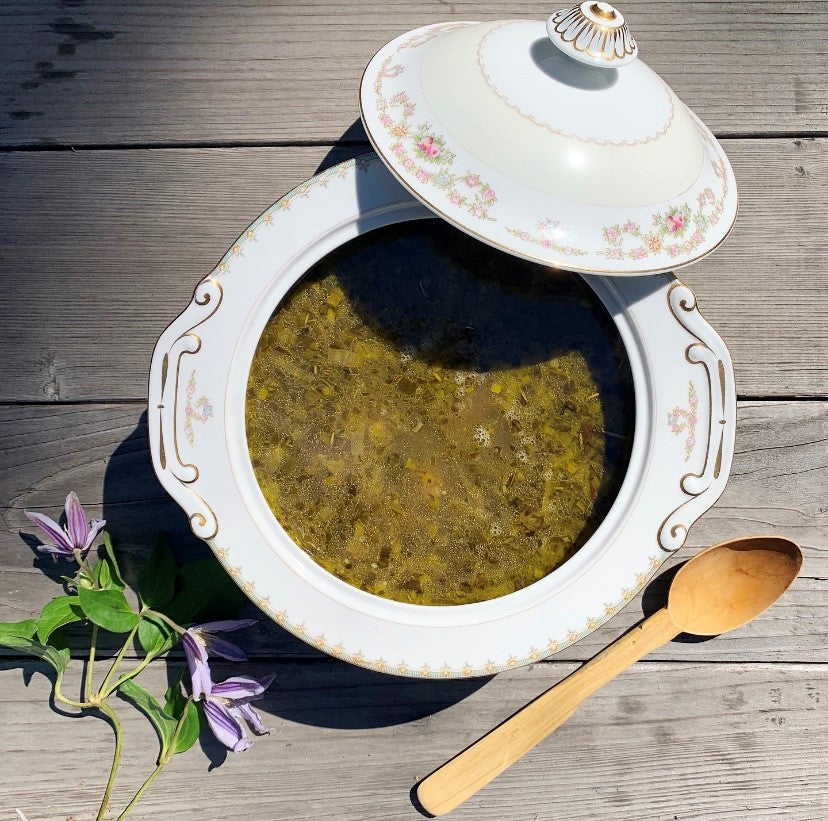 Inspired by Rye Goods Co. Reishi Mushroom Immune Boosting Broth, we made French Onion soup with Herbes de Provence and loved it - your turn!
1/4 cup unsalted butter (French butter from TJoe's is our fave)
4 med yellow sweet onions, sliced (Maui onions, if available, diced)
1 tsp Spice & Tulips Herbs de Provence
2 cloves garlic, minced
1/3 cup dry white wine
6 cups beef stock (we have used Rye Goods stock and loved it!)
3 sprigs fresh thyme
1 bay leaf
2 tsp white wine vinegar (optional)
French Picnic salt
Freshly ground black pepper, to taste
French baguette
 
Melt butter in a large stockpot medium heat. Add onions, and cook, stirring often, reduce heat to low-med, until onions are a deep golden brown and caramelized, about 20- 25 minutes.
 
Add the 1 tsp Herbs de Provence. Stir in garlic until fragrant, about 1 minute.
 
Stir in wine, scraping the bottom of the stockpot and cook two more minutes.
 
Add the beef stock, thyme and bay leaf.
 
Bring to a boil; reduce heat and simmer, stirring occasionally, until slightly reduced, about 15-20 minutes.
 
Remove and discard thyme sprigs and bay leaves.
 
Stir in white wine vinegar.
 
Season with French picnic salt and pepper, to taste.
Serve with fresh baked bread.... Rye Goods Co has excellent options!
 
Bon appetit!
---