MAIN DISH: Fettucine with Ricotta & Mint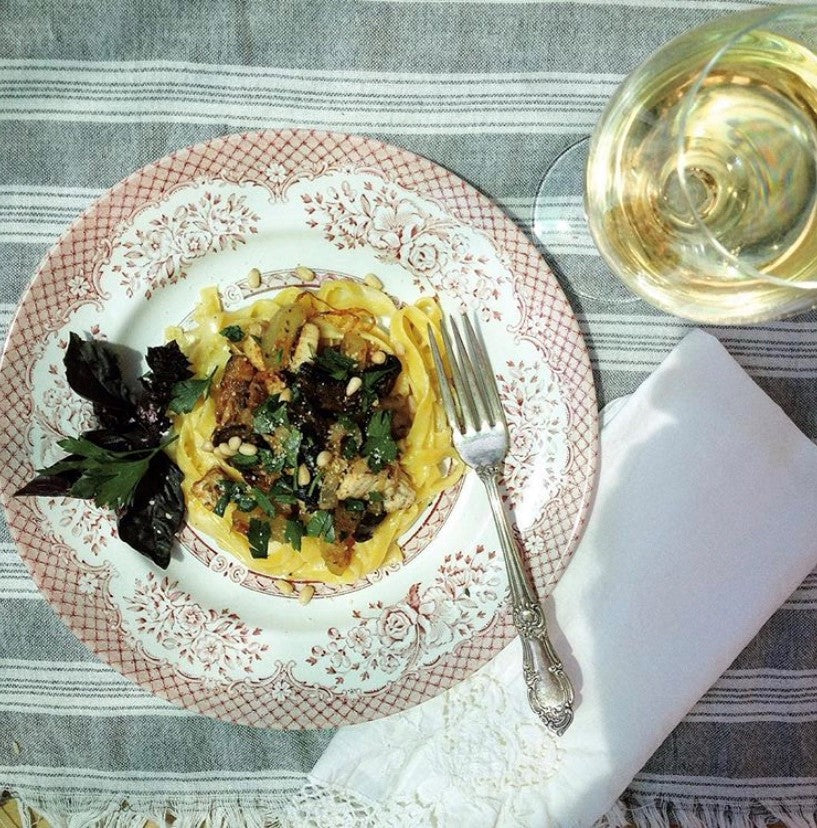 This is a Spice & Tulips twist on traditional fettucine dishes. Think less Aflredo, more sass-edo. 
1 box fettuccine dry pasta
2 TBSP olive oil
1 lb zucchini, sliced into 1/4 in thick rounds
½ onion, diced
3 cloves garlic, finely chopped
1 tsp Tuscan Sun blend
1 tbsp dried Turkish mint
Half cup ricotta, crumbled
1/4 cup coarsely chopped flat-leaf parsley
1 tsp finely grated lemon rind
1 tbsp lemon juice
1/2 cup pinenuts, roasted
1/4 cup finely grated Parmesan, plus extra, to serve
Black Truffle salt, to taste
Cook pasta per box instructions al dente.
Meanwhile, heat 2 TBSP olive oil in large, heavy-based frying pan. Add onion, then zucchini, and cook over medium-high heat, turning once until just beginning to soften. Now add garlic, Tuscan Sun blend and Turkish Mint. Cook for a few more minutes over low heat, stirring frequently until fragrance fills the air.  
Add drained pasta and combine well with remaining ingredients. 
Serve immediately, drizzled with extra-virgin olive oil and extra Parmesan, if desired. Finish with Black Truffle salt.
Of course, don't forget to chill a light, summery Pinot Grigio.
Serving suggestions: Add sliced portobello mushrooms and/or chicken breast.
Bon appetit! 
---