MAIN DISH: Karniyarik (Stuffed Eggplant)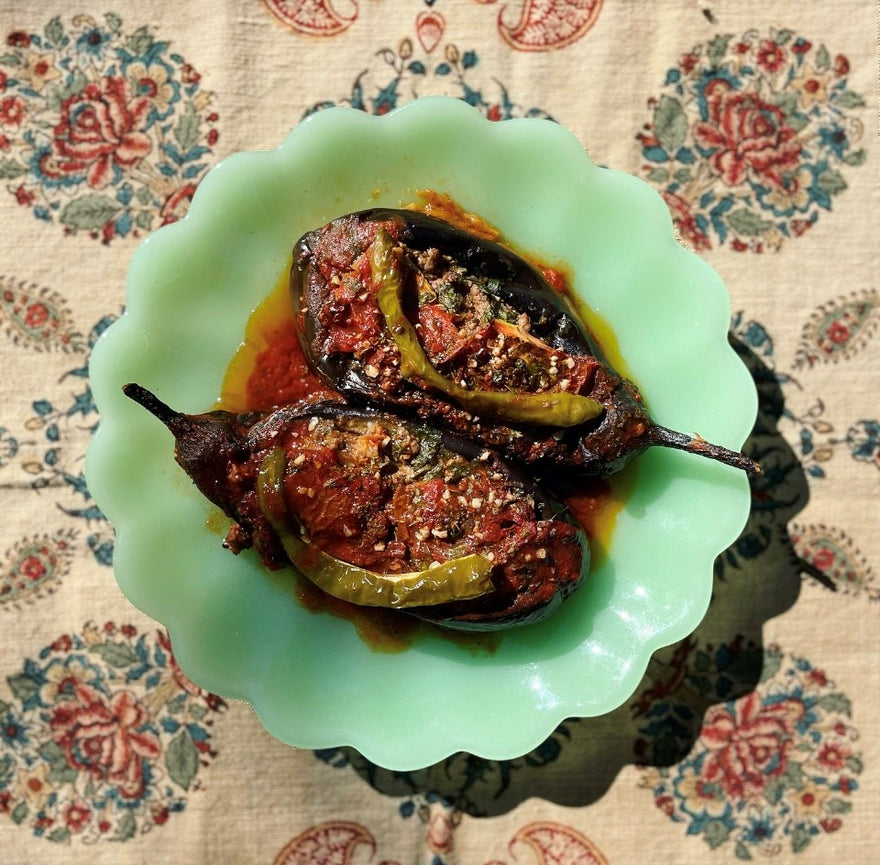 There is a vegetarian version of this dish called Imam Bayildi; either way, with or without meat, chances are quite good that you'll be so overcome by its deliciousness that... you will faint! Don't be intimidated by the ingredients list, we just like to make sure you have plenty of garnish options. ;)
Prep Time: 30-40 minutesCooking Time: 35 minutes covered + 15 minutes uncovered
 INGREDIENTS
EGGPLANT (soaking)
6-8 medium eggplants (Italian or Asian work well)
1 TBSP salt (for soaking the eggplant in water) 
STUFFING
1TBSP olive oil, more if desired
1 small yellow onion, diced
1 lb ground beef
2-3 garlic cloves, minced
2-3 medium tomatoes, coarsely chopped  
1 TBSP
Grand Bazaar
spice blend, more to taste (or
Istanbul Izgara
spice blend)
½ tsp sugar 
1½ tsp salt, or more to taste
½ cup fresh parsley, chopped (save some for garnish) 
EGGPLANT (frying)
2 TBSP avocado oil  
TOMATO SAUCE TOPPING
3 oz tomato paste (half of 6oz can)
1 to 1½ cup hot water
1-2 tsp extra virgin olive oil
Additional 1 tsp
Grand Bazaar
spice blend (optional, if desired) 
Garnish (optional)
one tomato, cut into small slices
long green or yellow peppers (e.g. Anaheim peppers)
extra virgin olive oil
chopped parsley
(last 5 minutes of cooking, if desired) shredded mozzarella
 Serving suggestion (optional)
plain rice cooked to package instructions
plain yogurt
PREPARATION
 
Step 1: Prepare eggplant (soaking)
Peel 4 strips from the skin lengthways, creating stripes. Fill a large bowl with water and add 1 TBSP salt to it. Place the eggplants in salt water for 15 to 20 minutes. This will remove their bitterness and prevent the eggplants from absorbing too much oil when frying them later.
 
Step 2: Prepare the filling (while the eggplants are soaking)
In a large frying pan, heat the olive oil over medium heat, add the onions and sauté until soft. Add the ground beef, breaking apart into very small pieces (stirring frequently). Cook until almost all the moisture is absorbed, but not dry. You'll want some of the juice of the meat for flavor. Add the garlic, chopped tomatoes, spice blend, and sugar. Season with salt and mix well. Continue cooking a few more minutes. Remove from heat and stir in most of the chopped parsley. The seasoning is important at this stage; taste and add more spice blend or salt, if desired. Filling cooking time approximately 10-12 minutes. 
 
Step 3: Prepare eggplant (frying)
After 15-20 mins soaking, remove eggplants from water and gently squeeze dry with a paper towel. Poke each eggplant with a fork a few times along the white stripe. Heat oil in large deep-frying pan over medium heat; the pan should be large enough to fit all the eggplants in a single layer. Add eggplants and cook for 8-10 minutes, turning often, until slightly softened. Tip! Close lid of the pan while frying to keep hot oil from splashing everywhere... be careful, it's very hot! Once the eggplants are soft, place them on a paper towel to absorb excess oil and set aside to cool.  
 
Step 4: Prepare to bake. Preheat oven to 375F.
Place the eggplants in a single layer in an ovenproof dish or baking tray. Split them down the middle with two forks and fill them generously with the ground beef filling.
 
Step 5: Make tomato sauce topping
Mix all ingredients in lidded jar, shake well, and spoon sauce over stuffed eggplants, gently pouring around them as well. Tip! Leftover tomato-based pasta sauce could be used in place of tomato paste topping.
 
Step 6: Garnish and bake
On top of each eggplant put a slice of fresh tomato and/or a green or yellow pepper. Drizzle olive oil over each of your beautifully garnished eggplants. Cover with aluminum foil and bake for about 35 minutes. Remove foil and continue baking for approximately 15 minutes, or until eggplants are tender and nicely browned on top. Tip! If extra hungry or just in the mood for melted cheese, add shredded mozzarella in the last five minutes of cooking.
 
Serve hot with plain rice and a spoonful of plain yogurt on the side.
 
Final Tip! Any leftover stuffing is great for mixing into pasta later in the week.
 
Bon appetit, afiyet olsun!
---