SIDE DISH: Garlic Zaatar Hummus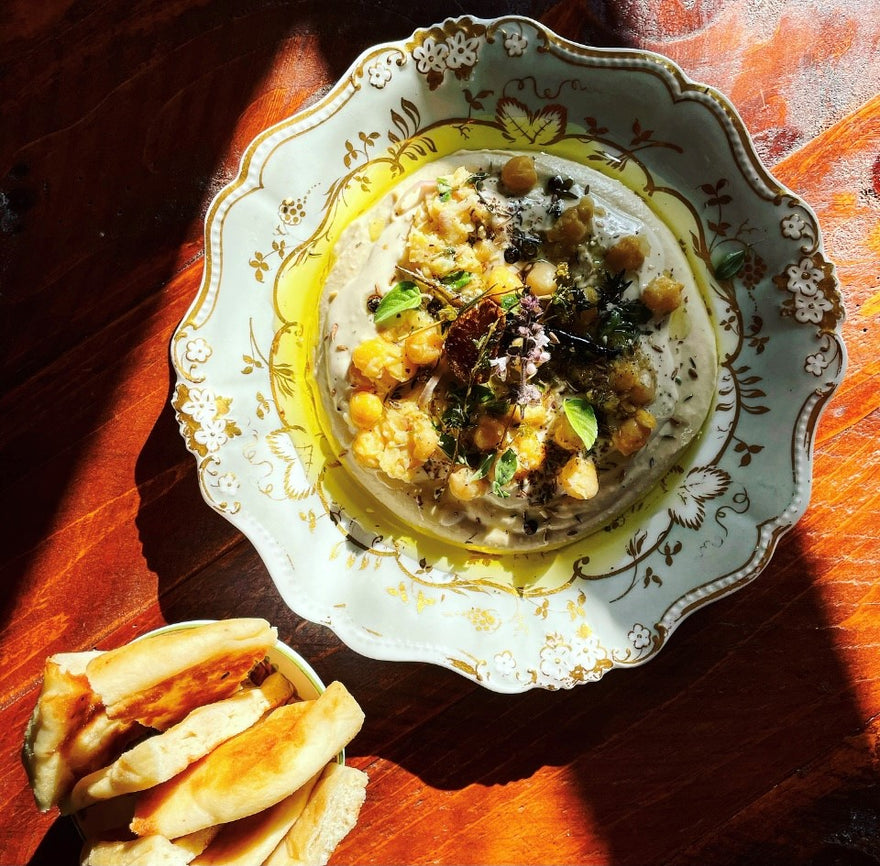 Inspired by the marvelous Yotam Ottolenghi's hummus creation! We first tried it in January 2021 and have now added a touch of Spice & Tulips. You'll recognize the herb-spiced-olive oil from other savory yogurt dishes we've made in the past. This time, however, we've incorporated Ottolenghi's suggestion of whole garlic cloves into the mix and our shared love of the mantra:
the more tahini, the better
. The result is mouthwatering. Prepare a batch ahead for a day at the beach, light dinners and meals on the go. A delicious dip for veggies or condiment for sandwiches. It's so good, and simple enough to prepare, you might never go back to store bought again! 
Prep Time: Approx 45 minutes
 INGREDIENTS
HUMMUS
2-3 cups cooked chickpeas (or canned)
1¼ cup tahini, plus ¼ cup for dressing below (mix tahini very well before using)
1 tsp salt, more if desired
Lemon juice (approx. 1½ lemons)
¼ cup Herb Garlic Olive Oil (recipe below)
½ cup ice cold water, plus extra for pureeing the hummus + tahini dressing 
HERB GARLIC OLIVE OIL (where the "magic" happens)
8-10 garlic cloves, peeled
4-6 thyme sprigs
¼ tsp cumin seeds
1-2 Arbol chiles (or your favorite chile)
1 cup EVOO 
 A few pinches of salt  
GARNISH
¼ cup Tahini Dressing (recipe below)
1½ TBSP parsley, finely chopped
A pinch of salt
1 tsp
Zaatar
TAHINI DRESSING
¼ cup tahini
Juice of 1 lemon
1 garlic clove, crushed 
A pinch of salt to taste 
3-5 TBSP ice cold water 
 PREPARATION
Herb Garlic Olive Oil
(aka, the "magic")
Combine all ingredients in a small saucepan over low-medium heat; simmer until the garlic is soft and golden brown, about 15-20 minutes, stirring occasionally. When done, set aside to cool. 
You will not use all the herbed oil in the recipe, but all the cooked garlic cloves will be put into the hummus; remaining herbed oil keeps for 1-2 weeks in the refrigerator. Bring to room temp prior to using.
Tahini Dressing
Combine all ingredients except ice cold water in a bowl and whisk together. Add the water slowly, while whisking, until the mixture is smooth, runny, and creamy. Set dressing aside.
You will not use all the dressing; any leftover can be used to flavor salads or roasted veggies throughout the week.
Hummus
1. Set ¼ cup of cooked chickpeas aside in a small bowl.
2. Now place the remaining chickpeas and the tahini, salt, lemon juice into the bowl of a food processor. Incorporate the flavors of your
magical
Garlic Herb Olive Oil by scooping out
all the garlic
cloves
, some of the
cumin seeds
, some of the
herbs
and
chilies
 and approximately ¼ cup of the
oil
and adding to the food processor bowl. Pulse until smooth, 2 to 3 minutes. With the processor running, drizzle the ice water into the puree until completely smooth. You may wish to add a bit more water to reach the creamy texture you like. For example, we like our hummus very creamy, so we tend to add slightly more water here. Taste and adjust salt and seasoning to your liking.  
3. Using your small bowl of reserved chick peas, add the parsley and a pinch of salt and stir together. Set aside.
4. Transfer the hummus to your favorite decorative serving dish or oval platter. As you smooth the hummus onto the plate, make a slight well in the center. Spoon the Tahini Dressing into the well, then spoon the parsley chickpea mixture over the top of the hummus. Finally, drizzle 1 TBSP cooked garlic herb olive oil over the dish. Finish with a sprinkling of our
Zaatar
blend! 
Enjoy with toasted flatbread, pita or French baguette. Add to a burger, use as a dip for carrots, or condiment for pizza.   
Afiyet olsun!
---