SOUP: Spicy Red Lentil with Lemon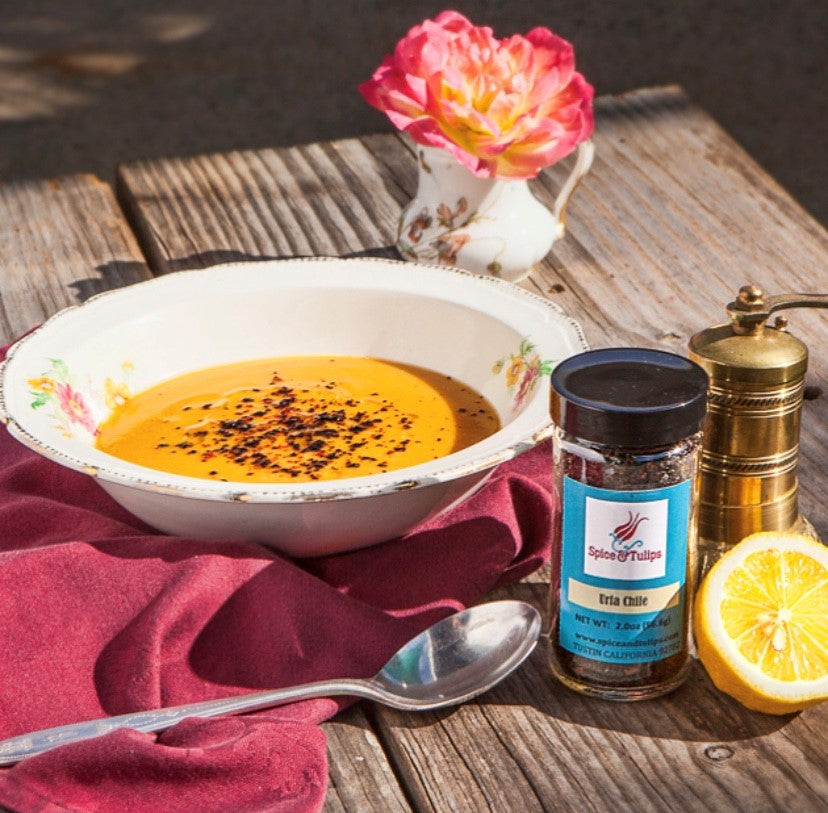 This comforting soup is absolutely perfect on a cool wintry afternoon or spring evening.

¼ cup pure olive oil + plus 2 tablespoons 
1 medium-sized onion, chopped
3 cloves of garlic, minced
1 small potato, cut into 1-inch cubes
2 medium carrots, cut into ½-inch slices
1½ cup red lentils, picked over and rinsed (you can use other lentils too)
5 cups water + 8 cups chicken or vegetable stock or filtered water 
2 tsp salt
½ tsp black pepper
2 TBSP butter (or olive oil)
1-2 TBSP Grand Bazaar
1½ tsp Urfa Chile
Fresh lemon juice

Heat olive oil in heavy bottom pot (medium heat). Add onions and cook until translucent. Stir in garlic and cook 45 seconds.
Add potato, carrots, lentils and stir for 3-4 minutes or until veggies are coated with onion and garlic mixture. Add 5 cups of water, bring to boil, cook until soft (approx. 15 mins).
Puree the now-cooked lentil & vegetable mixture in a food processor in batches.
Place pureed mixture in a large heatproof bowl. Transfer back to cooking pot when finished. Note: Using a hand blender directly in the cooking pot also works.
Stir in broth, let come to a boil, add salt and pepper, turn down heat to medium-low for 10-15 minutes.
While soup is simmering, heat butter in a frying pan. Add Grand Bazaar and cook over medium heat for 1 minute.
Pour desired serving of soup into bowl and drizzle with warm buttery spices.
Serve immediately with fresh lemon juice squeezed over the top and Urfa Chile flakes.

Cook time: Approx 30-35 minutes
Serves: 4 - 6 (depending on the portion size)  
 
---