MAIN DISH: Seasonal Ratatouille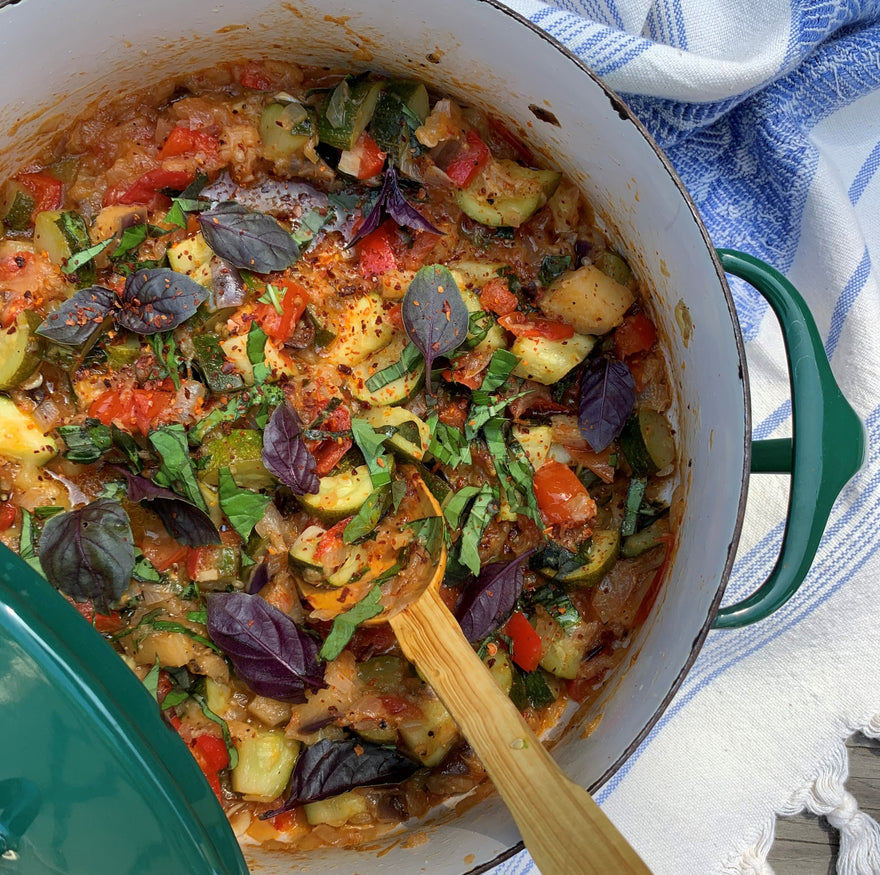 Improvisation friendly, this recipe can be served year round using seasonal, fresh, vegetables from your neighborhood farmer's market or alternating organic canned alternatives when certain items may be out of season. For example, in place of fresh tomatoes, organic canned (whole or diced) tomatoes could be used. Be bold and experiment! 

1/4 c EVOO
1-2 Italian eggplants, cut into 1/4 inch-thick strips an cubed
1 yellow onion, finely chopped
1 red bell pepper, cored and cut into 1/2 inch thick strips and cubed
4 small zucchini, cut into 1/2 inch cubes
2-3 garlic cloves, minced
3/4 tsp sugar (optional)
4 fresh tomatoes, cored and diced into 1/2 inch cubes
1/2 tsp thyme
1/2 tsp  Marash Chile
Sea salt (we suggest French Picnic!)
Freshly ground black peppercorn
1/3 c fresh basil, chopped
Warm olive oil in a large pan over medium heat. When oil is heated, add eggplant and sauté until golden brown.
Then add onion and red bell pepper and cook until translucent & soft (approx 8-10 mins). Do not over-stir the vegetables (or they will be mushy!)
Add the zucchini, garlic, sugar (if using), tomatoes, thyme & Marash Chile, until veggies are soft (but again, not mushy). Finally, add your s & p and fresh basil.
We always drizzle with a little more EVOO when serving.  
Enjoy!!
---