MAIN DISH: Moroccan Tagine with Apricots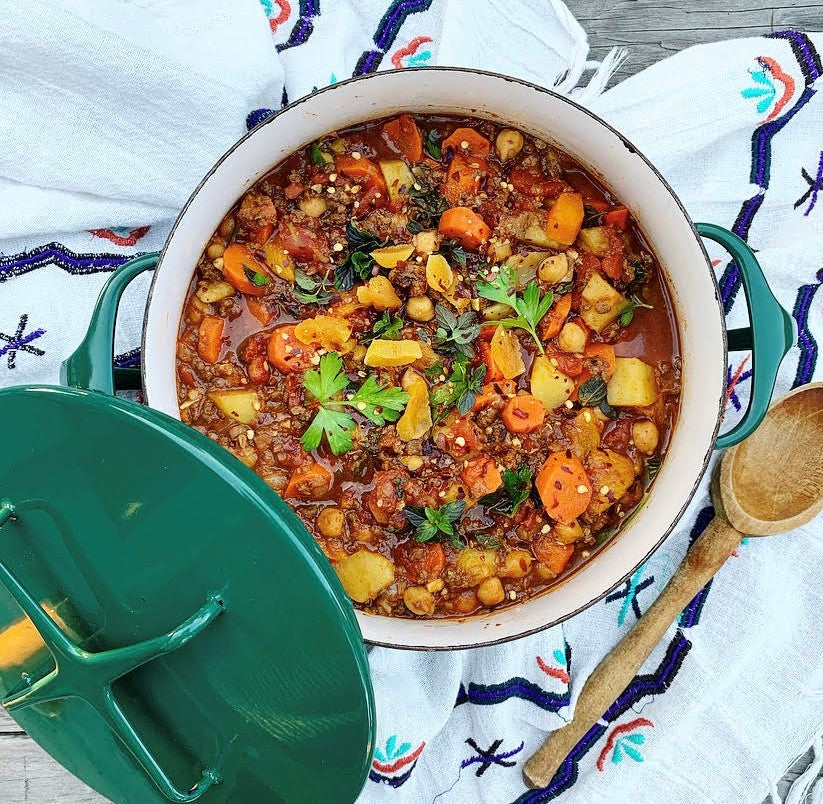 This is another one of those recipes that looks more daunting than it is. Don't judge a book by its cover! Most of the items listed are everyday ingredients, and many of them are probably already in your pantry or already on your next grocery list. Perfect for a weekend meal (with leftovers for the week), set aside about an hour and let the cooking games begin!
2 TBSP olive oil 
1 med onion, finely diced
1 lb ground beef or lamb (or vegetarian alternative)
3 garlic cloves, minced
1 TBSP Ras El Hanout
1 tsp red pepper flakes (optional)
2 tsp coarse sea salt
One 28-ounce jar diced tomatoes
1-2 med Yukon gold potatoes 
2 cups (= one 15.5 oz can) cooked chickpeas (Trader Joe's organic recommended)
4 carrots, cut into ½ inch-thick rounds
10 dried apricots, roughly chopped
4 cups beef stock or water (if using water, add a bit more salt to taste)
1 cup red wine 
1 cup of parsley, finely chopped 
Plain yogurt for serving
Salt and pepper to taste
Marash Chile
 
In a large wide pot, heat the oil over med-high heat, add the onion until soft, about 5 minutes. Push the onions to the sides of the pan and add the ground beef. Cook the meat, breaking apart with a wooden spoon, until nicely brown and cooked through, another 5 minutes. 
 
Add the garlic, Ras El Hanout, red pepper flakes (if using) and salt. Cook for 1 minute, or until the spices are fragrant. 
 
Carefully pour the tomatoes into the pot, mix well. Add potatoes and simmer, stirring frequently, until the liquid has reduced, about 15 minutes.
 
Now stir in the chickpeas, carrots and apricots. Cover with the stock and red wine. Bring to a boil, turn the heat to low, and simmer uncovered for 35 to 40 minutes, or until the carrots are tender and the chili has thickened. Remove from heat. Add parsley and stir.
 
Taste for seasonings and adjust as needed. 
 
Serve with a sprinkle of Marash Chile and one spoonful of plain yogurt.
 
Bon appetit! 
---