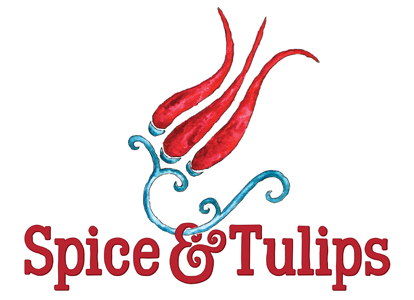 APPETIZER: Roasted Red Pepper Dip
Don't be intimated by the ingredients list! This dip is quick to prepare and effortlessly spices up an evening at home!

4 fire-roasted red peppers
3 Serrano peppers
1 TBSP pomegranate molasses
1/2 tsp dried Turkish mint
2 TBSP chopped mint leaves
2 TBSP extra-virgin olive oil
2 green onions, finely chopped
1 Persian cucumber, finely chopped
Juice of 1 lemon
1 tsp sea salt
1 tsp Spice & Tulips Grand Bazaar blend

Slice roasted peppers and place into blender. Add the remaining ingredients and blend to a fine purée. Taste and adjust the balance of salt and lemon, if needed.
That's it!
Chill covered until ready to eat. This dip will keep for up to 3 days.
Great with eggs, chips, cheese & fresh baguette.
(You can thank us later.)
---
---
Also in Spice is the Life